Week 8 on the X factor final and Stacey Solomon sang an amazing rendition of the 'Take That' all time classic 'Rule The World' and yet again she amazed and showed why she should be in the final. Stacey looked stunning tonight and its easy to see why Olly Murs has been after her for weeks . She is just he most lovable genuine sexy woman a guy could hope to meet.
cheek out Stacey Solomon singing Rule the World below
Stacey's second song tonight was Elton John's all time classic ''Something About The Way You Look Tonight' and although I thought it was great the judges didn't seem to all agree. One thing I do think though is what the X Factor panel have said from day one – believe in your self a bit more Stacey – you are simply amazing and have such a wonderful voice
and here is what the judges had to sayabout the performances.
---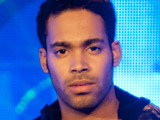 Danyl Johnson – 'Relight My Fire'
Louis: "Danyl, what a great start to the show. You've proved you're not just a one-trick pony. You can sing, you can dance, and Danyl, you deserve to be on that stage. I'm glad you've got your mojo back and I think you're really talented. And round one, you won!"
Dannii: "That was an amazing production, an amazing performance, the choruses were bang on… the verses were pitchy for sure. And I'm not sure about the body rolls – the dance steps were great but I'm not sure about the body rolls!"
Cheryl: "It was as camp as Christmas but in a really fantastic way! I know how tough it is to sing and dance at the same time and you made it look pretty effortless, so well done Danyl."
Simon: "Taking everything into account – the fact that it was an incredibly complicated routine and you were foot perfect and note perfect – I honestly think you really, really proved a point tonight. You are the type of artist who when anything is thrown at you, you just do it. You proved a point and I'm very, very happy with that performance."
---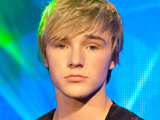 Lloyd Daniels – 'Million Love Songs'
Louis: "Lloyd, the thing is you are in the final five so obviously people like you much more than I do. I think the song suited you a lot more than last week, I think you're much improved, and I think your singing was pretty good – I don't think it was great. It's up to the public now to pick the best three people – I think you'll struggle."
Dannii: "Lloyd, a million girls out there want your phone number. You're always putting on a great performance, you always bounce back, and you always come out fresh. I would just say don't complicate your melodies because you're making it difficult for yourself, and tuning-wise you were going off in the verses."
Simon: "Look, Lloyd… it was a very, very good choice of song. A great choice of song. The lyrics are absolutely perfect for you, it's a teen pop song, and I thought you sang it OK. This is what I'm going to say to you, because there are two songs tonight. What you've got to show us is, you've got to have fire in your eyes to show the audience you actually want to stay in this competition, because it was a little bit mechanical. So on the second song I want to see a bit more effort and commitment. You should be the happiest boy in the world. You wanted to be a popstar, you're on the show, and I know the difference between walking it and really doing it."
Cheryl: "I've got no doubt that in the second song you're going to come out and show us just that. These lot [the audience] absolutely loved it and so did I."
---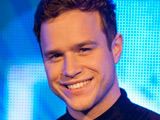 Olly Murs – 'Love Ain't Here Anymore'
Louis: "Olly, I still can't believe you were in the bottom two – there's no way you deserved to be in the bottom two. Everywhere I go girls are telling me how much they like you. I'm glad you've got your confidence back and that song totally suited you. It is a talent competition and I think you deserve to be in the final three."
Dannii: "It's kind of getting back on your horse after being in the bottom two and starting with a ballad, which is not your thing. I admire you for getting up there. But the sparkle was not quite in the eyes."
Cheryl: "It's really lovely to see everything stripped away and hear you sing. Sometimes I can't hear you because these lot [the audience] are going nuts, but I'm looking forward to seeing round two and seeing you back in your stride."
Simon: "I'd like to start with the girl you were singing to – I think she's cute! I thought you did a great job tonight. You sung the song well, you emoted the song very well. I don't think it was a song where it was appropriate to have a sparkle in your eye. I think it was about believing in it. And what happened last week – there was no sulking, no complaining, you just got on with it and proved why you should be here."
---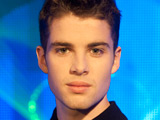 Joe McElderry – 'Could It Be Magic'
Louis: "Joe, it could have been magic and it was magic. Every week you get better and better and better. You're turning out to be a real popstar. I loved the whole production, the musical arrangement… but Joe, seriously, you deserve to be in the final three."
Dannii: "Joe, you are absolutely flying high. You took the opportunity to do a hard song, and I know you've been nervous this week and worried about the notes, but you absolutely smashed it. And I can picture you in the final, I can see that."
Simon: "Joe, look, this is going to sound a bit repetitive because it was brilliant. What was so impressive was the way you managed to maturely navigate your way through the dancers and the production. You looked like you were in control, the production wasn't in control of you. That production, Brian [Friedman], was absolutely fantastic. I'd also like to say, because they haven't been mentioned much, the dancers are doing a brilliant job. But you, Joe, you, young man, were the star of that. Brilliant."
Cheryl: "What can I say? Listen to that reaction! Honest to God, it was flawless. I absolutely love you to pieces. I hope to God everybody at home enjoyed it as much as we did and keeps you in."
---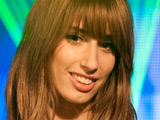 Stacey Solomon – 'Rule The World'
Louis: "Stacey, I like you every week and nothing has changed this week. I think you're getting and better, and what I really like about you is you don't believe how good you are. You're a really good singer and you so belong in the competition. I hope people vote for you. That was a very challenging song but you absolutely did it for me."
Cheryl: "That was a challenging song – I don't think people realise how hard it is for you to sing a male vocal or in your case a male group vocal when you're female. And you are the only female left so represent!"
Simon: "The advantage you've got with a girl singing a guy's song is it's not going to sound like a karaoke version. I thought it was very believable and the perfect song choice for you. I thought it was better than your song last week because it was a more interesting song."
Dannii: "Stacey, that was an amazing performance. You're emerging as the true star of this show. I don't think people realise how much you've grown week after week. There's incredible support for Dagenham Stace and we love you."
---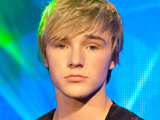 Lloyd Daniels – 'I'm Still Standing'
Louis: "Lloyd, round one you kind of won me over, round two the song was called 'I'm Still Standing' – you're just about standing there. It just didn't look like you were having a good time and it was all a bit karaoke for me, honestly. And it was nice, but we're not looking for nice anymore, we're looking for a star."
Dannii: "Lloyd, lyrically you're definitely still standing, you're proving a point there. It was a fantastic production. Vocally, it is still shaky on bits, but it was better than the first song. Much, much better."
Simon: "God, none of us are in agreement tonight. I didn't think it was as good as the first song. I thought it was a silly song choice. I think what Cheryl was trying to do with you with the retro routine didn't suit you, it didn't suit the song. It was like something from an amateur dramatics production and Cheryl, you're a popstar. You understand what's right for the artist and what's right for the song. I thought that was inappropriate."
Cheryl: "I also know how tough it is when you've been criticised week after week after week to come out and sing. I'm very, very proud of you for coming out and delivering each week when you've been criticised so much. So I hope people keep you in."
---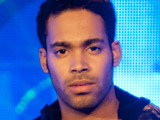 Danyl Johnson – 'Your Song'
Louis: "Danyl, what I like about you is you get criticism week after week but you always bounce back. You picked Elton's most iconic song and made it your own – I liked everything about it except the choir. I don't know why Simon gave you a choir, you don't need a choir. With your voice and your looks you've got it all."
Dannii: "That was a really great version of a really great song, and it was much, much better than the first song. Lots of good singing!"
Cheryl: "I think we're seeing the Danyl we first fell in love with back at the audition process. You look more comfortable and you look more confident – it was good."
Simon: "Cheryl, it wasn't good, it was sensational. Sorry, that was what it's all about. It's doing something different with the song. And Louis, don't be rude about having kids on the show. You're like a dark cloud who blots out the sunshine. They're little children who want to be on the show – let them!"
---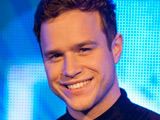 Olly Murs – 'Saturday Night's Alright (For Fighting)'
Louis: "Olly, I loved you in round one, thought it was one of your best performances. It was an unusual song choice for you. I like your funny dancing, I like you, but there was something missing."
Dannii: "Scrooge, move over. Round one was OK, round two was an absolute knockout. I'm really happy the grandpa suit's gone, but you've got a sparkle in your eye. The song was absolutely made for you and very technically difficult – but it was absolutely a smash."
Cheryl: "Firstly, I don't know how you can concentrate with all those sexy girls around you, but you did it and you did it really well. I definitely agree with Dannii, that was a knockout performance."
Simon: "Olly, it was the Olly we really loved from the beginning back in the competition. It was a great song, a great performance, and you really added something tonight – an extra 10, 15, 20%. You put your heart into it and made it sound like the song was written for you. I was nervous about this song today but I'm very, very happy."
---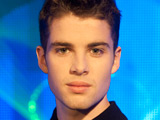 Joe McElderry – 'Sorry Seems To Be The Hardest Word'
Louis: "Joe, you absolutely won round one for me and on that performance you absolutely won round two. You've got it all, you've got the voice, you've got the personality, you've got the likeability. I watch you grow every week. You were born to do this and you have to sail through to the final. People have to pick up their phones and vote for you. I like everything about you."
Dannii: "There hasn't been a song sung in this year's competition with more passion than that. The feeling you have conveyed through the lyrics is just exceptional. I have to see you in the final – please vote for Joe."
Simon: "I'm absolutely gobsmacked by that, I really am. I mean, you've got to remember this is what I do for a living, I run a record label. And I thought, like I said in the VT, that this was a safe choice. But something happened to you in a week. You changed, almost like a boy turned into a man. What you did with that song was so simple and so beautifully sung. It really felt like you were singing sincerely every lyric. By far my favourite ever performance of yours."
Cheryl: "Joe, you're a little star. Honest to God, you make me proud to be a Geordie. I'm so proud of you and I pray to God everyone keeps you in. You thoroughly deserve to be in that final."
---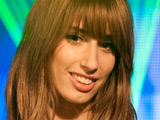 Stacey Solomon – 'Something About The Way You Look Tonight'
Louis: "Stacey, you're the last girl standing, and you certainly deserve to be in the final three. I wasn't crazy about the song choice, I preferred you in round one to round two, but I like you an awful lot."
Cheryl: "You looked slightly uncomfortable in parts there – I would be, you did have a lot to contend with, and under the circumstances I thought you did a great job, Stacey."
Simon: "I'm going to tell you why I didn't like that song like I did the first song. Why I didn't like the second song is you're not a singer like Leona or Alex, you're not one of those big belting singers. What I loved about your audition was you had a different kind of voice – more subtle, cooler – I think that's why I'd use a wedding singer comparison. That doesn't do you justice. That's a very different performance from the first song, which was more original, so I wish you'd reversed the order."
Dannii: "Stacey, that was a brilliant performance. I push you week after week to do more and more. I really, really loved it. I don't know what Simon's going on about!"
Categories: Danyl Johnson, Elton John, Olly Murs, Rule The World, Simon Cowell, Something About The Way You Look Tonight, stacey solomon, Take That, The X Factor, week 8, xfactor Tags: Joe McElderry, olly, Olly Murs, personality, rendition, stacey solomon, The X Factor, x factor, youtube